SOLD OUT
GPS Navigator + ABC Watch Takes You Off the Beaten Track
Altimeter, barometer and 3-axis compass with automatic sensor calibration
Up to 1,000 waypoints and store up to 10,000 track points
TracBack reverses the track log to navigate back to your starting point
Wireless capability to share routes, tracks, waypoints with other devices
Compatible with wireless heart rate monitor, cadence sensors and tempe™ wireless temperature sensor
The Garmin fēnix is the first GPS navigator+ABC (altimeter, barometer & compass) wristwatch to include Garmin GPS navigation. Designed for outdoor enthusiasts, it satisfies the lofty requirements of the serious adventurer. It's very easy to use and packed with many of the same features found on our popular outdoor handheld GPS products. As a true GPS navigator, it can guide you off the trail and back to the safety of your vehicle, trailhead, campsite or home. All while conveniently strapped to your wrist.
You can create and follow routes, mark up to 1,000 waypoints, store up to 10,000 track points and easily navigate to them. Share data wirelessly with other compatible Garmin GPS units and smartphones. Naturally, as a navigating GPS+ABC watch, it also includes an altimeter, barometer, 3-axis electronic compass and temperature sensor. Rugged, stylish and waterproof to 50m (164 ft), it's as comfortable in the cement, steel and glass jungle as it is escaping the beaten path to life's greatest adventures.
Navigate Your Way
No other navigator GPS+ABC wristwatch offers you the GPS navigation capabilities of Garmin — The world's most trusted name in GPS navigation. fēnix tracks where you have been, but it also can guide you into the wilderness and, more importantly, guide you back out again. After all, what good does it do you to collect data, if you can't use it to find your way back to your computer to download it?
It records a track log creating a GPS "bread crumb trail" as you move. It also allows you to mark waypoints, such as your campsite, vehicle location or other POIs (points of interest). With fēnix, you can create and follow routes, mark up to 1,000 waypoints and store up to 10,000 track points. You even can create routes that can be downloaded to fēnix from BaseCamp™, free trip-planning software, from a computer. Then, follow the navigation arrow to waypoints. To get back, just have TracBack® show you the way.
Enjoy Wristwatch Convenience
Rugged and attractive, the fēnix also is a highly accurate timepiece that can be worn everyday. It includes settings for alarms, chimes and vibration alerts. It also functions as a timer, stopwatch and world clock.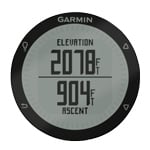 Altimeter
fēnix has a built-in barometric altimeter that provides accurate elevation information so you can keep track of your ascent and descent.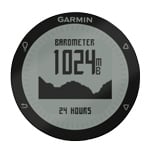 Barometer
The built-in barometer can help you monitor and predict weather changes by showing you short-term changes in the barometric air pressure. If the barometric pressure begins a steady decline, this could be a warning of an impending storm.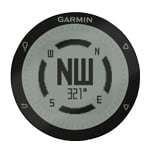 Compass
fēnix includes a 3-axis electronic compass that keeps your bearing whether you're moving or not. Sight a bearing and be confident fēnix will keep you headed toward your goal.
Be Ready for All of Life's Adventures
Temperature Sensor - gain insight into temperature trends from the built-in temperature sensor. Knowing how rapidly the temperature is rising or falling can help you determine clothing and shelter needs or whether it's time to turn back.
Wireless Unit-to-unit Communication - easily share tracks, waypoints, routes and paperless geocaches wirelessly with other compatible Garmin GPS units and smartphones. fēnix is equipped with both ANT™ capabilities and Bluetooth® technology. That means you can also pair fēnix with several external devices, such as the  tempe™ external temperature sensor, Garmin heart rate monitor and speed/cadence sensor.
share